Miniature implantable telescope (Scharioth Macula Lens)
Help instead of magnifying glasses or telescopes
Burning need of patients with macular degeneration is incapability to read and differentiate details. Magnifying glasses and telescopic systems until recently were the only solution. But,today it does not have to be the case. Surgical implantation of telescopic lens can resolve this problem for good.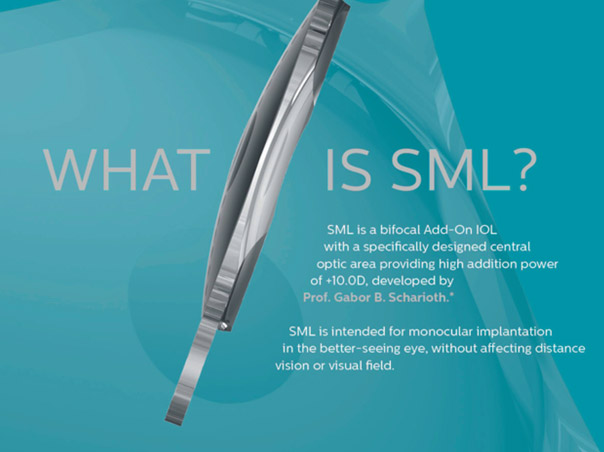 Scharioth macula lens (SML) is telescopic intraocular lens which is surgically implanted into the eye and gives magnification of letters and details allowing free movements. It gives greater comfort in comparison to external telescopic systems in glasses. It is implanted in the better eye, as add-on IOL.
Completely new technology in designing optical zones enables additional strength of
+10 D, with no effect to distance vision or width of visual field (invention of Prof Gabor B. Scharioth).
Magnifying glasses, telescopic systems and glasses are aid for magnifying letters while reading in cases of macular degeneration, yet at the same time they are limiting free functioning and movements. Because of that modern ophthalmology answered to needs of these people with new surgical possibilities.
Who are candidates for SML
– wet form of AMD, in terminal stage (scar stage) without exudation, when possibilities of aVEGF treatment are exausted
– myopic maculopathy
– congenital retinal diseases
– after macular surgery
– after vitrectomy with membrane peeling from macula or macular rupture surgery(macular hole)
It is applied in patients after cataract surgery (pseudophakia) with advanced AMD, gives possibility of simple and safe solution for near vision recover, damaged because of macular degeneration.
It can be applied simultaneously with cataract surgery, during the same procedure, but it is recommended to undergo phacoemulsification first than to evaluate whether the patient is a candidate for SML.
Why is SML advantageous in comparison with LVA (Low Vision Aid) system
–gives sufficient magnification of image -2,5 times, without magnifying central defects in macula
– vision at distance remains undisturbed
– no reduction in visual field
– pricewise more affordable than earlier generations of implantable telescopes
– available since 2010.
– reversible, possibility of easy explantation
– revolutionary, new technology with proved add-on platform for specially designed central optical zone offers great refractive power of +10 D
As a difference to external aids Macula Lens magnifies the images, but not scotomas in central vision and creates lesser refractive error and better vision quality.
Constant presence in the eye, makes patient adapt better to high magnification. With training, they significantly improve reading speed at high magnification.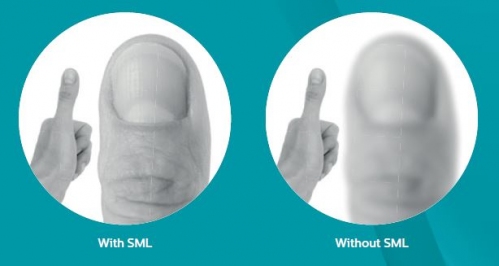 Decision about implantation follows examination that evaluates visual acuity at distance and near.
– patient must have visual acuity for distance, no lesser than 0.05
– near vision, with glasses correction of +2.5 D at 40 cm, and +6 D, at 15 cm respectively.
With all these low vision aids this test is used (patient has to understand the principle of reduced distance for reading, with increasing, magnifying) and if with added correction feels comfortable in reading then is a candidate for SML.
Patient must be motivated, to improve vision at distance and reading.
Surgery lasts shortly, 10 min.
It is under local anaesthesia, without pain
Incision is small 2,2 mm
Without staying in the hospital-outpatient.
Surgical procedures perform Prof. dr Pavel Rozsival, who was actively involved in developing studies of implantable telescopes.
He is dedicated to anterior segment surgery, cataract surgery, refractive surgical procedures, with application of various, by need chosen, intraocular implants.
He is one of leading members of international society for intraocular implants, scolar and educator by profession at world ophthalmological meetings, on subjects of implantible intraocular miniature telescopes. Also, impressive number of performed SML implants, Prof. dr Arpad Bereczki, vitreoretinal surgeon, dedicated to macular problems, macular and refractive surgery.